Laura Sánchez
Physiotherapist
Languages: English – Español – Deutsch – Catalán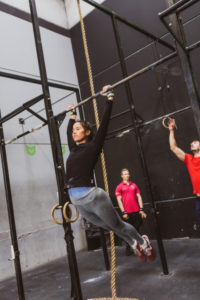 It all started when I was finishing school and I used to go jogging on the beach, I liked to stretch and warm my legs before exercising. Still, I had cramps and occasional muscle strain over and over again. I was wondering what I was doing wrong and how I could prevent this from happening, I was interested in knowing the reason for the situation and I wanted to be able to deal with it if the problem continued. It was then that I thought about Physiotherapy.
The moment I was accepted at the University of the Balearic Islands I cried with happiness and knew deeply that I wanted to study Physiotherapy. When I started the course, I decided to start training CrossFit. I was the only one in my class who practiced it until we reached the last weeks of the 4th year, not only my classmates but also teachers joined this highly criticized sport during my university degree, until they tried it and saw that it is wonderful and it adapts to each person specifically and individually.
During these years I have learned a lot about the human body while training and understanding my own body, it gives me more knowledge and my own experience to be a better professional. There is nothing more important than promoting health and being a reference for the patient who trusts you, being able to motivate and follow him during his improvement or maintenance of good physical health.
To speak of the state of health is to refer to the physical dimension, which makes the brain operate at its maximum cognitive level, with which the energy is stimulated, the stress dissipates and, consequently, the feeling of happiness expands. I am a very happy person who maintains a healthy lifestyle in all aspects, which makes me a nature lover, observant and introspective. This, in turn, makes me empathic with the people around me.